Don't Just Take It From Us – See What Our Customers Say
Laurie Tulchin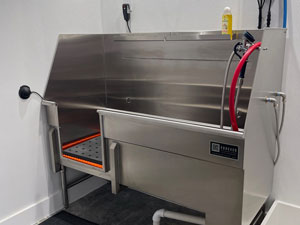 After using my tub for more than a month now I can't say enough great things about it!  The quality is amazing, nothing else out there compares!  Forever Stainless has thought of everything.  The hair catching system, the heavy-duty non-slip mats, the stainless steel shelves for shampoo, the sump pump and bather….they all add up to providing the easiest, safest, most efficient way to bathe your furry friend.  The step stool entry is great, no problems getting my 12 yr. old collie right in.  And the internal shelf provided for washing a small dog works great too.  I'm using the quality sprayer and I love it.  I really could not be happier with my 5 ft. tub.
Thanks again.  If you have another customer in the area that wants to look at my installation I would be more than happy to give a demo.
Jane Corbin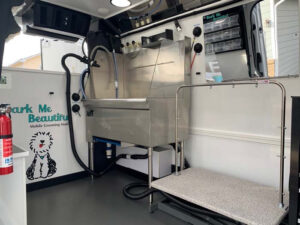 I have been in the grooming industry for close to 20 years and the Forever Stainless Steel tubs are by-far my favorite. The quality truly stands the test of time. I got my first tub 10 years ago and it still looks as good today as it did when I bought it -used, I should add! I have a team of approximately 10 groomers at any given time and we see a LOT of dogs. Groomers are hard on equipment, as any salon owner knows, but these tubs can handle anything that our groomers and dog throw at them. From the big dogs to the little dogs, I am always comfortable bathing in one of my Forever Stainless Steel tubs. The company is amazing too! I have ordered multiple grates for other tubs, and they always go above and beyond to find me what I am looking for. The team is friendly and knows the product! I will always recommend a Forever Stainless-Steel tub!
Atlantic Animal Shelter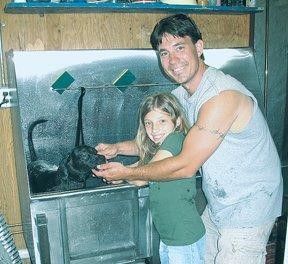 The Atlantic Animal Shelter purchased their Forever Stainless sink in 2008 the addition of the pet wash tub was a dream come true, Thanks to Friends of the Shelter.
Animal Shelter Officer Ron Flory and his niece, Marah, wash down a stray pup in the shelter's new bathing facility. The stainless structure is specially designed for kennels and veterinarians by Forever Stainless of Omaha, and it includes a large waist-high tub, ramp, power hose, trap drain, and grooming stand. The purchase of the equipment was made possible by the Cass County Endowment Fund through a grant, written by the Friends of the Atlantic Animal Shelter.
Article Date June 10, 2008, in the Atlantic News Telegraph.
Recently 2021 the Atlantic Animal Shelter was remodeled to include an addition to the building & a proper grooming room for the animals. Our Forever Stainless Steel pet wash tub went with into the new grooming room. 2022 it was time to upgrade our faucet and we once again turned to Forever Stainless Steel to purchase a deluxe faucet for our tub.
Kris Erickson Atlantic Animal Shelter Director "We could not be happier with Forever Stainless Steel tub. They are so easy to use, they accommodate all size of dogs & cats if you are brave enough. I have bathed my own 250 lb. English mastiff in our pet tub. The retractable ramp makes it possible for me to get him in the tub & he has plenty of room to turn around so I can wash all of him. With the addition of the new faucet staff couldn't be happier. It was quick & easy to install as well as operate between the faucet and the sprayer. Thank you once again Forever Stainless Steel for product that really do last. Clean pets are happy pets & happy pets get forever homes."
Chazz Hacking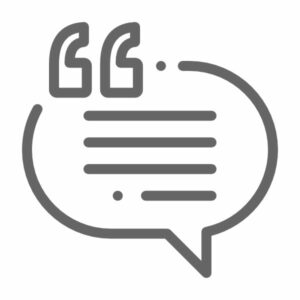 The Specialized retail team is committed to elevating bike retail environments and providing rich cycling-focused experiences for our riders. One way we do this is by specifying Forever Stainless Bike Baths in our retail projects. The Forever Stainless Bike Bath is USA made and, in our experience, the the gold standard in bike washing. A clean bike makes for a happy rider.
Brent Craig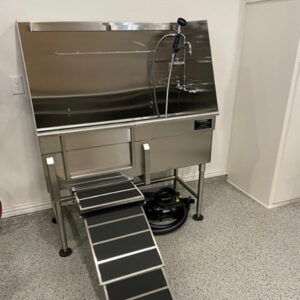 Tub finally arrived today in perfect condition. It's awesome! Now I just have to hook up the plumbing.
Thanks for your assistance.
Raymundo Yu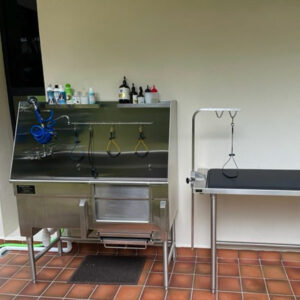 You're products have not disappointed. Both the humans and dogs are enjoying the new equipment and set up.
Our relationship will continue for a long time. Appreciate your help on the restraints.
Sue Bauer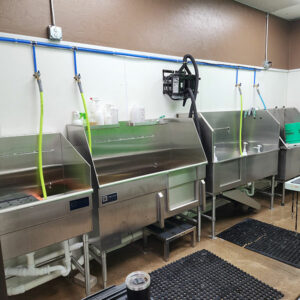 Forever Stainless are the best tubs! If you are considering upgrading your current tubs or adding tubs, I highly recommend buying these. We have two tubs from another company that were purchased 10 years ago and I wish I knew about Forever Stainless when I bought those. I purchased two additional tubs and my groomers could not be happier! They love them!
Forever Stainless has an extremely knowledgeable and helpful staff. Evan helped me pick out the tubs that would work best for my needs. He even mentioned that I might want to consider using the tubs with a step versus a ramp. I was hesitant at first but ordered the step for the larger tub. It works perfect since most dogs are used to stepping up instead of going up a ramp. Yesterday I called and ordered more steps for the other tubs. Thanks Evan!!! My groomers could not be happier with the quality and durability of the products!